Help us fight the darkness of Rhino Poaching!

This month the focus has been on the plight of our Rhino and the studio of Arend Eloff was involved in a fund raising event held by The Success Academy Rhino trust where a rhino bronze fetched R60,000. These funds are allocated directly to the rhino war on the ground and collectively the art of Arend Eloff has now raises over R360,000 which was allocated directly to action on the ground ie fences, training, equipment, etc.
We are continuing this action where fine art can be used as a tool to help fight the darkness. The studio is not connected to any gallery which means that a good percentage of art sales can be directed to worthy causes.
Rhino Fight is an impressive artwork which was meant by the artist to convey a spirit of angry resistance against the ignorance and stupidity of elements in this world. Rhinos have no resistance to a human onslaught and it is only humans who can resist this. There are many dedicated people on the ground who fight this onslaught on a daily basis and that is why the studio is personally connected to STOPRHINOPOACHING as Elize works tirelessly to provide assistance for soldiers on the ground in the form of training, equipment and support.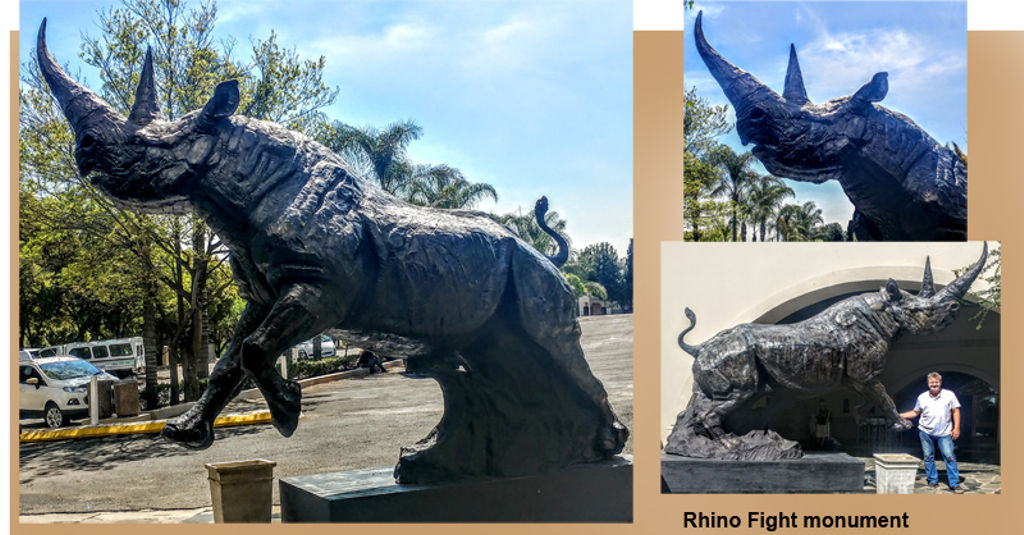 1. This monumental artwork was created, moulded and then cast in a metal compound where bronze, resins, and a steel structure forms the essence of this massive artwork. It has an artistic/gallery/auction value of around R250,000.
This artwork can will also be cast in a limited pure bronze collectors monument. Only 3 will be available in the world.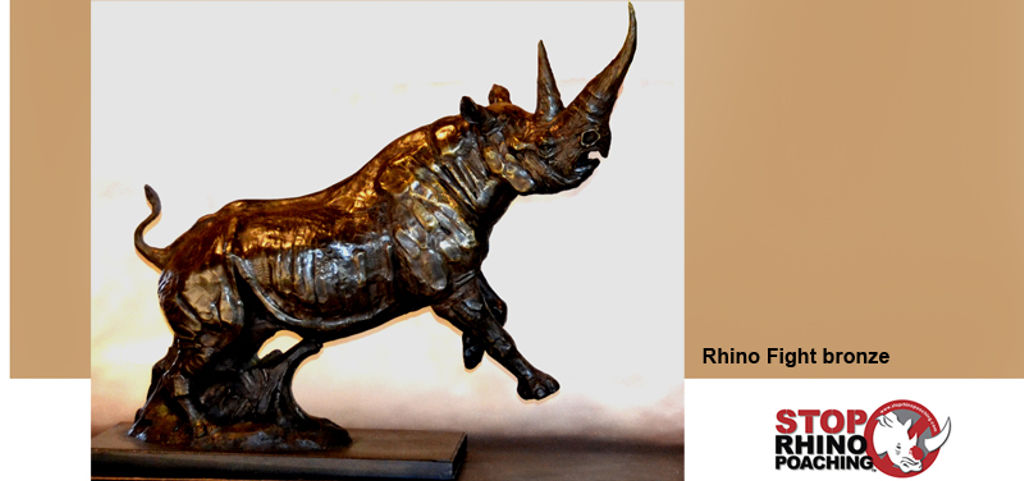 2. The artwork project is always started by a smaller scale model and this sculpture was initially created in a length of 85 cm and then cast in a pure bronze. This No 1 collectors artwork of only 8 is ready and available at a collectors art value of around R85,000
The studio is setting out these two (very large and smaller) artworks till the end of Sept where , like any auction, any serious offers to purchase will be considered.
The studio also have full catalogues in wildlife, bird life, human and equestrian sculptures available.
The artwork of Arend Eloff has always grown in stature and collectors value over the last 30 years of professional service and expression and is considered a solid investment in art and power and beauty.

A Healthy contribution of 20% will be given directly to Elise and her organization of any of above mentioned sculptures on offer, ie Rhino Fight and/or catalogues.
Please feel free to forward this info to any potential business or individual.

Help us fight the darkness!
Arend Eloff Studios
www.arendeloff.com